Mastin's holds the most prestigious certifications in the roofing industry | Owens Corning Platinum Preferred Contractor, GAF – Factory Certified, CertainTeed – Master Shingle Applicator




Mastin's Roofing and Construction Inc.  has been serving the greater Fredericksburg, Virginia area for over 25 years. Our quality workmanship has earned us a reputation as one of the areas premiere contractors.  We are a family owned operation and all jobs are overseen personally by the owners.  All of our employees are qualified and have many years experience.  Satisfied customers have always been our best references. In recent years the business expanded to framing, guttering, siding, windows, and ornamental metal railings but roofing is still number one!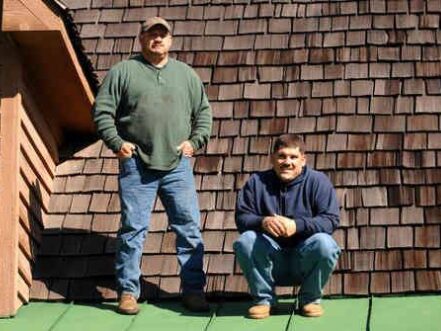 Family Owned & Operated
Mastin's Roofing and Construction is one of the most respected and trusted roofing companies in the Fredericksburg area.  Mastin's is still family owned and operated. Tyke or his son Tyson are present on each and every job undertaken by the business. Unlike many franchise companies, The Mastin's are Fredericksburg area natives. They not only work in the area, they live here.
GIVING BACK TO OUR COMMUNITY & OUR VETERANS
A Beaverdam man called some local roofers looking for a replacement, and ended up with an unexpected gift. Bob Sherman, a Vietnam veteran, greeted local roofers to his home as they installed a new one, completely free of charge.
"It's such a wonderful feeling," said Sherman. "I've never really been on the receiving side, so I'm honestly not sure how to react."
The owners of Mastin's Roofing and Construction and Owen's Corning worked together to make a new roof a reality for the Sherman family, as the initial price tag ranged around $8,200 dollars.
"As I see it, veterans don't get the credit they deserve so to do this for them was the least we could do," said Tyson Mastin, Owner of Mastin's Roofing and Construction. "You could tell Mr. Sherman was a little surprised at first, but as the process went on you could tell he was real appreciative."
Sherman said the new roof came at a great time, as their old one was damaged from moss and years of use. He thanked everyone there, and those who were not, for helping him during this time.
"Sincerely, from the bottom of our hearts thank you for everything," said Sherman. "We will never forget what you have done for us."
Article from WWBT-NBC12